Through the BCPL's "LibTalk" program last April 14, 2023, Lapada was announced as the 3rd Runner Up among eight women who submitted their entries from March 13 – April 5, 2023. The online submission was followed by the posting of entries at the BCPL's Facebook page, Baguio City Public Library, on April 6, 2023 and 10% of the criteria for judging came from the number of reacts for each entry. 90% of the criteria for judging came from the judges which includes relevance of content (50%), creativity (30%), technical quality (10%), and overall impact (10%).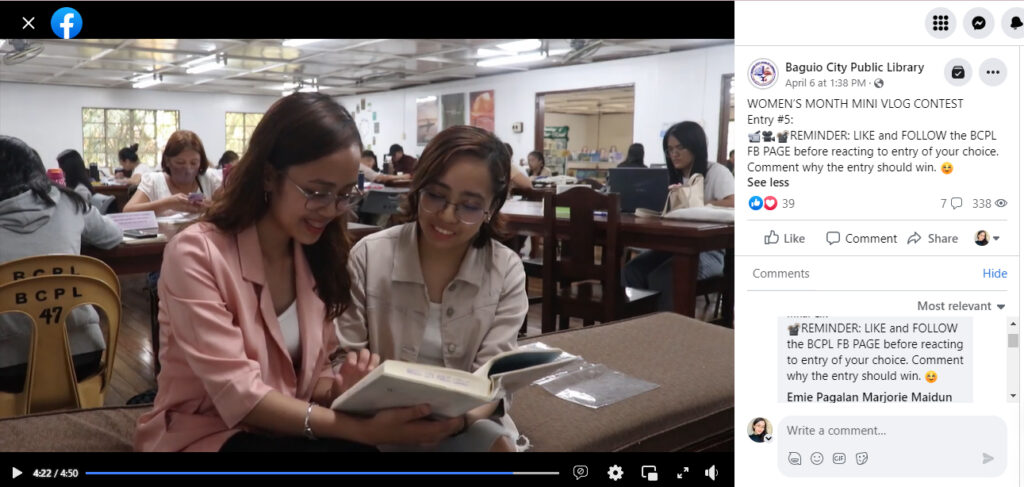 The contest was organized by the BCPL with the aim to support the development and empowerment of women. The contest was inclusive for Baguio City women residents and the content of the vlogs must feature the BCPL Gender and Development Section. The entries for the mini vlog contest will be used by the BCPL for educational, promotional, and other purposes.
Lapada is also a student leader who is currently the 4th Year Representative of SBAA's Junior Executive Circle (JEC) and programs like this which recognizes inclusivity motivate her to continue to be a beacon of hope within the campus and her community.
Article by: Alyssa Lapada and Jezreel Casiano